Product Lines ;
Segment Saw Blade
Laser Weld Saw Blade
Turbo Cutter
Rim Cutter
Sintering Segment Saw
Tuckpoint Blade
Metal Polisher
Resin Polisher
Grinding Cup Blade
Core Drill
Polishing Pad
Resin Diamond & CBN Wheel
Metal Diamond & CBN Wheel
Floor Polishing Disc Pad
Electro Plated Tool
Wire Saw
E-mail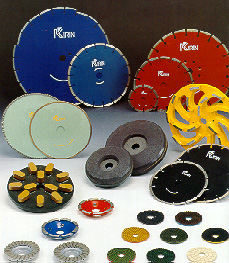 Kirin Diamond Industrial Co., Ltd. is the leading manufacturer and exporter of Diamond Tools in the World. We produce Segment saw blades, Laser weld saw blade, Turbo cutter, Rim cutter, Sintering segment saw, Tuckpoint blade, Metal polisher, Resin polisher, Grinding cup blade, Core drill, and Polishing pad for use in the concrete and stone cutting industry.
Our primary product line is used in the construction industry and the stone industry. We manufacture blades and bits used for cutting and grinding : Concrete, Asphalt, Brick, Block, Refractory, Tile and Stone. Our largest market is the Equipment Rental and Construction Supply industries.